Reliable Midlands Gritting Services for Winter Preparedness
Ensure your commercial premises stay safe and accessible during the winter months with our professional rock salt spreading and gritting services in Birmingham, West Midlands, and the surrounding areas.
Be Prepared for Winter…
Looking for a reliable gritting company in Birmingham? Our Midlands Gritting Services are now available, providing a cost-effective solution for small to medium-sized businesses and commercial premises of all types.
Keep your paths, entrances, and car parks free from the risks of snow and ice with our comprehensive Salt Spreading and Gritting Services.
We offer Fixed Rate and Call-Out Pay-As-You-Go gritting services for the winter period, allowing you to budget months in advance. All our vehicles are GPS tracked, and gritting services are carried out overnight as required. We can offer bespoke services to align with your business hours and provide additional callouts during adverse weather conditions.
Efficient Salt Spreading and Gritting Services
We understand the potential issues that cold weather can cause and recognise the importance of salt spreading in ensuring safe traffic movements and pedestrian safety.
Our weather-reactive Midlands Gritting Services are informed by professional MET Office reports, providing notifications of frost and ice for your location. We monitor commercial forecasts for your postcode area, and you only pay per treatment with all costs agreed upon in advance.
We can carry out weather-reactive gritting services automatically overnight to minimise disruption, giving you peace of mind during the winter period. Our team is equipped to spread rock salt by vehicle or on foot, allowing us to tackle any areas requiring de-icing, from large to small.
We are also available for call-out winter grounds maintenance and gritting services during the working week and out of hours as needed.
Trusted Midlands Gritting Services Provider
We offer affordable commercial Grounds Maintenance contracts for clients across a diverse range of sectors, including Commercial and Industrial Exteriors, Property Management Companies, Retail and Office Grounds, Landlords, Hotels, Public Houses, Care Homes, Private Roads, Housing Associations, Facilities Management Companies, Residential Estates and Apartments, and Estate Agents.
In addition to specialising in the maintenance of various multi-occupancy sites, we possess the capabilities and resources to accommodate School Grounds Maintenance, Industrial Site Grounds Maintenance, and Retail and Business Park Grounds Maintenance within the Midlands area. Trust our expertise in Midlands Gritting Services to keep your premises safe and accessible during the winter months.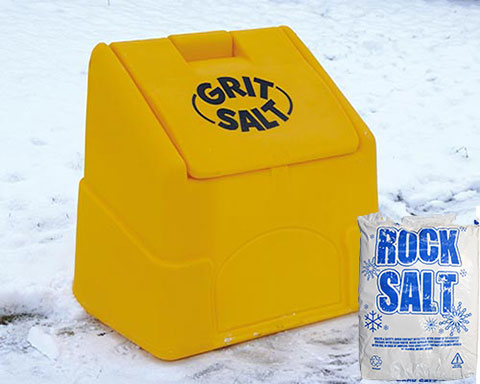 Premium Winter Rock Salt and Salt Bins Solutions
Ensure your premises remain safe and well-maintained during the winter months with our comprehensive rock salt and grit supply and management services. We can proactively manage your rock salt or grit stock levels throughout the season, or you can call us whenever you require a grit bin refill or need additional rock salt or grit supplies.
As a value-added service, we offer FREE delivery for our regular Grounds Maintenance clients. For more information on our services or pricing, please don't hesitate to contact us.
*Kindly note that prices may fluctuate throughout the season due to demand and supplier costs.
Midlands Gritting Services
Road Surface Temperature Monitoring and Winter Gritting Services
Fixed Rate
Winter Gritting Services
Met Office OpenSite™ Monitoring
Flexible Rate
Winter Gritting Services
We contact you to check if a site visit is required
Affordable, Professional, Reliable
Gritting Services in the Midlands
Our Midlands Gritting Services currently cover the following areas, but are not limited to:
Bewdley; Birmingham; Bridgnorth; Bromsgrove; Corby; Coventry; Dudley; Evesham; Halesowen; Kettering; Kidderminster; Leicester; Leicestershire; Loughborough; Northampton; Northamptonshire; Redditch; Royal Leamington Spa; Rugby; Sandwell; Shropshire; Solihull; Staffordshire; Stoke-on-Trent; Stourbridge; Stourport; Stratford-Upon-Avon; Tamworth; Telford; Walsall; Warwick; Warwickshire; West Bromwich; West Midlands; Wolverhampton; Worcester and Worcestershire.
Are you ready for
Winter?
Keep your Paths, Entrances and Car Parks FREE from the risk of SNOW and ICE!