We are members of the following organisations showing our commitment to high quality and the industry we operate in.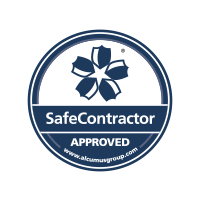 Safe Contractor Scheme
CDF Management Group has been awarded accreditation from Alcumus SafeContractor for achieving excellence in health and safety in the workplace. Alcumus SafeContractor is a leading third-party accreditation scheme which recognises extremely rigorous standards in health and safety management among contractors.

Contractors Health and Safety Scheme (CHAS)
We are accredited members of CHAS (The Contractors Health and Safety Assessment Scheme). CHAS was created by experienced health and safety professionals in 1997 to improve health and safety standards across the UK.​ As one of the founders of third party accreditation they are not only a trusted advisor on health and safety compliance, they are an authority.
H&S and HR Consultants
CDF Management Group retains the HR consultancy of Peninsula Business Services to ensure the legal requirements in accordance with Employment & Health & Safety Legislation are complied with and to develop and promote effective employment policies and procedures with a view to creating within the business a climate of good employment practice, employees relations and equal opportunities for all staff.
Met Office Winter Gritting
CDF Management Group has been awarded the Met Office Silver Level Quality Mark for Winter Gritters. The Met Office Quality Mark is the only such mark in the industry. This high standard reassures our clients that we are using the best in weather forecasting technology, and that our staff are fully trained in interpreting these reports. Our care and attention to detail has prevented injuries, slips and falls during the winter months.